Recently, the Migration Policy Institute published reports on the "superdiversity," where no one group takes the majority, of US classrooms. The data included state Fact Sheets, a report on Dual Language Learners (DLLs) in Head Start and Private/Public Pre-K programs, and a specific models some school programs are using to better educate DLLs, or Emerging Multilingual Learners (EMLs) as we like to call these growing number of students. Last week, MPI hosted an event in Minneapolis about the implications of superdiversity in Minnesota classrooms and the best ways to serve language needs.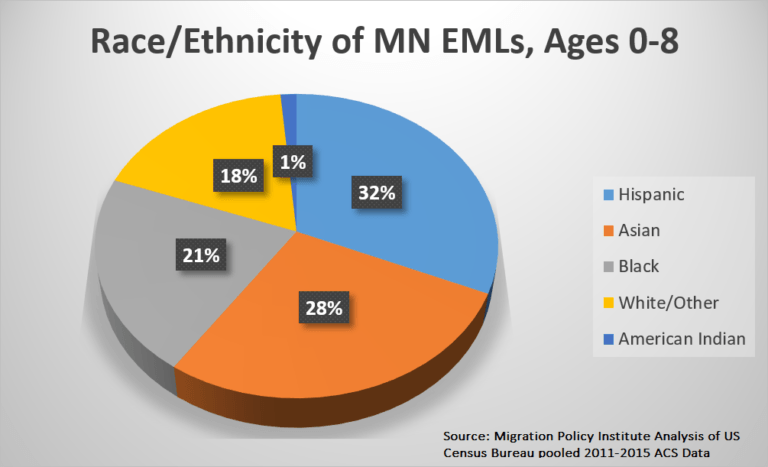 In Minnesota at the Pre-K level, there is no single majority of a language group, inferred by race/ethnicity demographics. In other states where a significant population of EMLs speak Spanish, which is the largest language group other than English in the US, it is more feasible to develop bilingual programs and incorporate dual immersion. But when a school has a handful of students who speak Spanish, another that speaks Hmong, some more than speak Somali, and one that speaks Arabic, how can a  teacher who does not know the languages support their students' multilinguistic development?
EMLs are the fastest-growing student group in Minnesota schools. Unfortunately, it has been a slow and sometimes difficult evolution for schools to catch up with student needs, especially when students come from diverse backgrounds. Yet some classroom teachers and entire schools are doing a great job at making adjustments for new classes. Here is an excerpt from one of the reports:
"The educators in these classrooms made strategic decisions about how and when to use their students' home languages, often depending on the program's policy context, the classroom's linguistic composition, and teachers' language skills and knowledge of the backgrounds of the children and families. For example, home languages were incorporated into morning messages and greeting routines so that children experienced hearing a wide range of languages, including the home languages of the classroom community. In addition, teachers who spoke the home languages of children in the classroom used these languages during play and classroom activities. In some cases where children and teachers did not share the same language, teachers recruited family members or other program staff to speak their home languages in the classroom, especially with children who were newcomers to the program."
In addition, the report provides ways all teachers can better support superdiverse linguistic settings:
A more diverse early-childhood workforce: In order to better support students directly, educators who look like their students and speak their language can develop strong and critical relationships. In our Teachers of Color policy brief, we outline ways to diversify the teaching workforce to match the demographics of Minnesota students.
Improved tools to assess the development of dual-language learners in early-childhood programs: In our EL-ESSA report, we recommend this since young language learners may advance more quickly, and it is important to keep their background in mind. Very little is developed for this age range, but much linguistic development occurs.
More research to develop teaching approaches that can work in "superdiverse" classrooms: Connecting with teachers and schools that are doing this well is a good start. Teachers can still provide students with access to their home language even though there are multiple groups or individuals, like incorporating translation into a reading activity.
Not only are EMLs growing in Minnesota, but the level of diversity has grown to offer new opportunities for teachers and schools to innovate the way they equip students with the tools to succeed academically. We invite collaboration to share promising practices and connections so that more schools and districts can strengthen EML achievement.