Big Bold Goal 5
Minnesota higher-ed institutions provide greater access and equity to students of color
By improving student access and financial aid for post-secondary education, we can improve higher-education outcomes for students of color. We work to inform policies and practices that ensure we continue to close opportunity gaps and help prepare all students to be successful in a rapidly changing global economy.
Educational excellence means students have the skills and knowledge necessary to succeed in career aspirations.
Achieving 70 percent graduation by 2025
Minnesota aims to increase the percentage of Minnesotans age 25 to 44 who have attained a postsecondary certificate or degree to 70 percent by 2025. But we can't get there without serving students of color and American Indian students and increasing access and opportunities for achievement throughout all education lifecycles.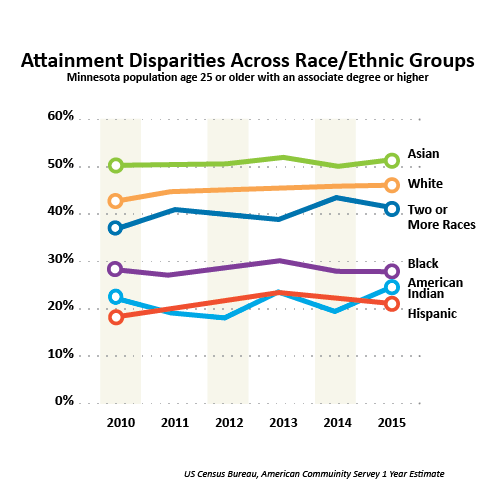 We can continue to open doors by developing innovative ways to connect students and families to social and education opportunities, and empowering them to be advocates for themselves and their future. Increasing access to multi-cultural academic and personal enrichment in K-12 education is essential for improving college preparedness and propelling personal and economic success.
Active Initiatives
Minnesota College Access Network (MCAN)
MCAN works to strengthen college-access program efforts in communities throughout Minnesota in an effort to increase the number of students attending and completing higher education in the state of Minnesota. Programs and initiatives include the Academic Enrichment Guide, MN College Knowledge Month, College Connector Certification, College Access Events and Resources.
Learn More
Resources
The Minnesota Office of Higher Education Summer Academic Enrichment Program