Big Bold Goal 3
Minnesota educator workforce reflects student demographics
Through partnerships, education, and community advocacy, we can work to develop state policies and funding frameworks to increase the number of teachers of color and American Indian teachers in Minnesota and attract and retain a diverse teacher workforce.
A racially equitable education system is one where students see themselves reflected in others.
Diversifying the teacher workforce is essential for student success.
A diverse teaching workforce is key for producing strong racially equitable education outcomes in public schools. Yet Minnesota still lags way behind when it comes to increasing the number teachers of color and American Indian teachers.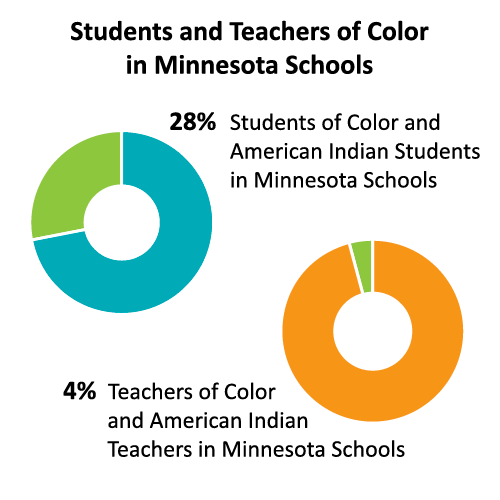 One recent study found that low-income black boys will have a 39 percent less chance of dropping out of high school and are 29 percent more likely to be interested in attending college if they have one black teacher between third and fifth grade. As the number of students of color continues to rise in Minnesota, it's imperative that we develop models for elevating the teaching profession and recruiting, retaining, and supporting teachers of color so all students have opportunities to thrive in a multicultural society.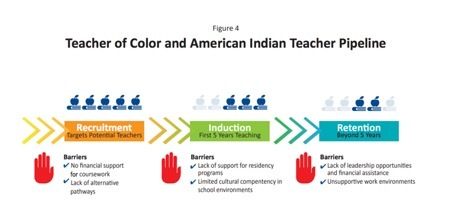 Active Initiatives
TeachMN2020: Imprint
TeachMN2020 is a campaign to increase the number of teachers of color by 2020. Through partnerships and collaborations, we are developing unique tools that will increase awareness, outreach, and support of prospective teachers of color and American Indian teachers.
A new interactive website, Imprint, is a space for public engagement to help elevate the teaching profession, particularly within communities of color. The website will provide easy access to relevant resources for exploring and understanding the various pathways to the teaching profession, and amplify the voices of broader, multi-racial stakeholder groups.
Learn More
TeachMN2020: Strategy Mapping
As part of the TeachMN2020 is a campaign, we are developing cutting-edge cloud-based technology to support a statewide "strategy mapping" of Minnesota's education environment for licensed pK-12 teachers.Strategy mapping works to inspire new narratives about the teaching profession and and make visible current teacher attraction, preparation, induction, and retention efforts and progress made in our state.
In addition, the process will engage stakeholders to help spur further collective action and impact by illuminating new insights in supporting teachers of color and American Indian teachers. MnEEP's unique approach focuses on understanding how the "execution gap" of existing efforts impacts teacher diversity.
Learn More
Resources
Increasing Teachers of Color and American Indian Teachers: 2015 Policy Brief