Big Bold Goal 2
Minnesota school climates foster positive student engagement
Through advising and training school districts on model discipline code policies and best practices, we can eliminate discipline gaps by race and support students of color and American Indian students for academic and leadership success.
An equitable education system is one that elevates the inherent dignity of all students.
Ending the discipline gap leads to greater equity, inclusion, and student achievement.
Students of color comprise 31 percent of Minnesota's student population, yet receive 66 percent of all suspensions and expulsions. What's more, a recent analysis of the 2015-2016 school year shows that American-Indian students were ten times more likely to be suspended or expelled than white peers. This denies student education access and negatively impacts their future success.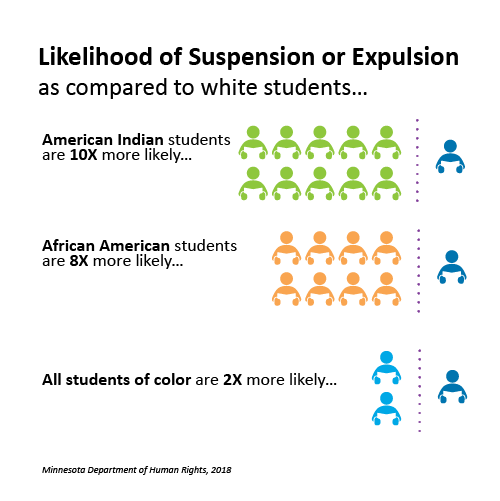 Research shows no evidence that students of color "misbehave" more often or more severely than White students. Instead, studies show suspension disparities are often a result of significant shortcomings at the administrative and school level. What's more, these disparities have longterm impacts: Research shows that students who receive suspensions are at higher risk for developing antisocial behaviors.
By providing training, developing discipline models, and changing policies and practices, we can ensure more equitable school systems and the future success of all students. It's imperative that educational institutions shift from "fixing" student behavior to reforming policies and practices that encourage understanding and relationships that foster positive student engagement.
Active Initiatives
Solutions Not Suspensions
Solutions Not Suspensions (SNS) is a campaign to end discipline disparities in public school systems. This trailblazing effort is founded on MMEP's own research, which revealed the way overly-harsh discipline measures and unjust racial biases in local education systems contribute directly to the disproportionate push out of African American boys through detention, suspension, and expulsion.
Learn More