Big Bold Goal 1
Minnesota schools are culturally responsive in their policies and practices
Through capacity-building and collaborations with education leaders, communities of color and Native American voices, and community members, we can work to develop race equity goals in education and promote policies and responsiveness that support them.
A racially equitable education system is one where race is no longer a predictor of academic or social success.
Collective action and equity leadership help fulfill the potential of all people.
Minnesota continues to have one of the largest academic opportunity gaps in the country. Culturally responsive classrooms, collective action, and equity leadership are necessary to address the ongoing systemic inequities that continue to be barriers to educational opportunities and excellence for students of color and American Indian students.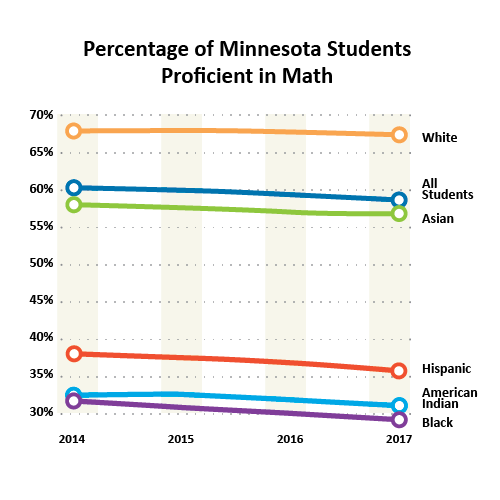 Race equity planning activities and collective action-inspired Race Equity Plans bring together communities of color and American Indian communities with school leaders to more holistically reflect diverse perspectives and experiences in shaping school policy and practice.
Dr. Ron Ferguson, Harvard Achievement Gap Institute leader and researcher, addresses race equity planning this way: "In the context of a movement for excellence with equity, it is important to view the changing cultural norms in schools, homes, and youth peer groups as collective action projects requiring organizers and leadership, not adjustments that individuals will carry out in isolation without regard for others' responses."
Leading with an equity lens is essential for building student and community success.
"Equity-centered capacity building (ECCB) provides a lens, a set of skills, and specific strategies that support school systems and communities….it also builds the courage, relationships, and the muscle of administrators, teachers, students, boards, and community members to stay focused on their dreams and goals—helping all students thrive, improving school systems, and tackling the most daunting challenges." –Dr. Sheryl Petty
Updates
"The more people participate in the process of their own education, and the more people…
Across the state, both K-12 schools and higher education institutions are increasingly committing to clear equity goals and policies to address educational disparities and systemic inequality. While these are important improvements, they question is often: How  are they  measuring progress of these new policies and practices to advance race equity?
The school year is done. Children have moved into a new grade, learned new skills,…
Resources
Developed by Nobles County Integration Collaborative (NCIC) Member District Communities with Minnesota Education Equity Partnership…