At Minnesota Education Equity Partnership (MnEEP), we want reflect on the work of 2017 so we can honor our accomplishments and look toward the future of achieving our Big Bold Goals. On December 1, we held our annual meeting at the Paul Wellstone Center in St. Paul, where nearly 150 people came to support and participate in the work of advancing race equity and excellence in education.
We came together with the shared goal of "Commanding a Narrative of Equity," a call to action that was kicked off by an inspiring piece by local artist Maria Isa.
Keynote speaker Michelle Walker, Executive Director for Generation Next—a nonprofit collation of civic, business and education leaders focused on closing student gaps in academic outcomes— gave a powerful speech about the need for placing race equity at the center of practice and policy in E-12 schools in order to drive academic achievement. She spoke about the need for "bottom up" work, including youth voices, and understanding that the work of eliminating racial disparities, such as changing student discipline practices, can evoke resistance from those who operate from white privilege and who deploy code words to cover their unwillingness to embrace change. Watch the video of her entire keynote address above.
The ever-inspiring Ron McKinley All my Relations Award recognized race equity advocates and change makers Mary Sam, Leann Enninga, and Philip Borer-Nelson, whom we lost this year.
Read about our award recipients below, and view more from our annual report and event in our slide shows:
Annual Meeting Presentation: See Slide Show
The 2017 Ron McKinley Equity in Action "All My Relations" Awardees
Philip Borer-Nelson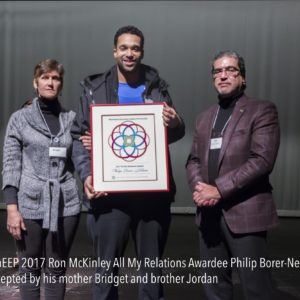 Accepted by mother Bridget and brother Jordan
Philip Borer-Nelson served as lead advisor at the High School for Recording Arts. He was an incredible advocate for young people and brought students to local Solutions Not Suspensions Coalition meetings, where they had the opportunity share their experiences and help shape statewide and national policy. At one meeting, students discussed what their dream school would look like, and each student shared a recurring theme: positive relationships with adults and teachers.
Philip modeled that positive relationship-building in his work every day, which has inspired many of his former students, like Azia Channel Brown, to pursue a career supporting young people. We lost Philip this year, and his warm presence, friendly personality, and desire to see his students succeed will continue to be greatly missed. 
Accepting the award on behalf of High School for the Recording Arts was his colleague Khulia Pringle; former student Azia Channel Brown; mother, Bridget, and brother Jordan, who both spoke elegantly to Philip's legacy and impact he made on so many. 
Mary Sam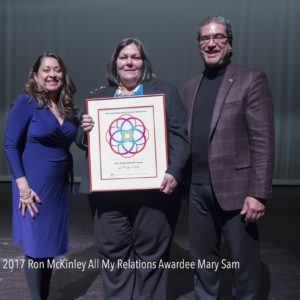 Mary Sam has been a longtime advocate for racial justice in central Minnesota, and she was honored by MnEEP for her ongoing commitment to racial equity. Mary was a key visionary for the MnEEP's Promise to Act advisory group and planning process in the Mille Lacs region, work that is now expanding across central Minnesota—engaging school districts, community groups, and youth in key dialogues on race equity and education.
Mary has nearly 40 years of experience building race equity programs and initiatives, crafting policy, and organizing communities to create platforms around Indian Education and race relations. She served as an Onamia school board member, and 15 years ago developed the Onamia Indian education program, encouraging key dialogue on race relations in rural communities. Mary's service to community is extensive and inspiring, and we look forward to seeing her lift up more innovative ideas for race equity in education statewide.
Leann Enninga
Leann Enniga is a strong race equity education advocate from Worthington, Minnesota, and has been an active member of the MnEEP community since the 1990's. Leann was a key leader on the Promise to Act advisory group in Southwestern, Minnesota, assisting with the first-ever Race Equity Action Plan of the region, released in June of 2017.
She was the first Director of the Nobles County Integration Collaborative, where se created 40 new programs for youth and families. In addition, she initiated the first ethnically diverse 4-H program in rural Minnesota, involving more 283 youth in four years. Leann is a champion for social justice and believes in equity for all young people in education because as she says "they deserve it!"  
With the generous support MnEEP promotes systemic reform. Individuals, organizations, and institutions are welcome to join the partnership as members or by contributing to this important work. Click here to donate.